Beaded Knitting Patterns - Knit with Beads
HeartStrings patterns for knitting with beads
Treat yourself or someone else with something beautifully beaded. HeartStrings patterns for knitting with beads give you gorgeous results with minimum effort. Each pattern project presents different techniques and design approaches, so you'll be building a repertoire of skills while getting the satisfacion of producing lovely items.
In the below listing, patterns are grouped by the bead size used (largest to smallest). Click thumbnails for pdf download of the pattern's cover sheet (opens in a separate browser window or tab). Click the pattern name to go to that pattern's webpage.
---
How Many Beads are in a Gram?
Weight estimates for round rocailles glass seed beads used in HeartStrings patterns are based on these approximate conversions (will vary slightly depending upon your choice of bead color and finish).
5/0 = 7 beads per gram
6/0 = 12 beads per gram
8/0 = 40 beads per gram
11/0 = 110 beads per gram
---
Patterns using size 5/0 beads
(5 mm diameter) AND Larger beads
---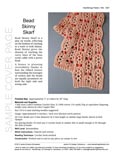 Bead Skinny Skarf - # H92 (uses Crow beads 9mm x 6mm)
---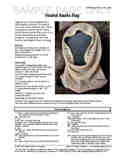 Beaded Smoke Ring - # A39
---
Patterns using size 6/0 beads
(4 mm diameter)
---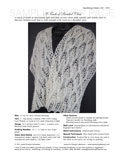 A Touch of Beaded Class - # H81
---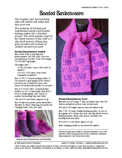 Beaded Basketweave (2 projects) - # A133
---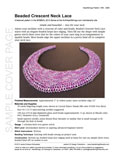 Beaded Crescent Neck Lace - # H93
---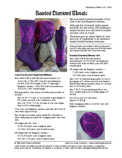 Beaded Diamond Mosaic (3 projects) - # A13
---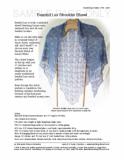 Beaded Lux Shoulder Shawl - # H58
---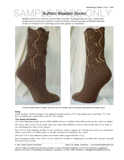 Buffalo Beaded Socks - # A134
---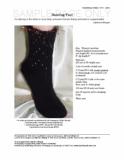 Dancing Feet Socks - # T311
---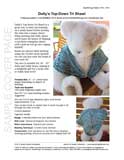 Dolly's Top-Down Tri Shawl - # B10
---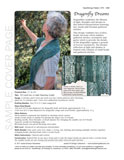 Dragongly Dreams - # H79
---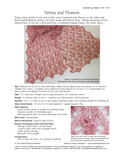 Fairies and Flowers - # H78
---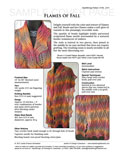 Flames of Fall - # A146
---
Fleur de Lis Lace Cape - # H84
---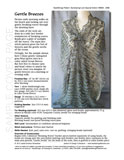 Gentle Breezes Lace Stole - # H86
---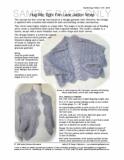 Hug-Me-Tight Fan Lace Jacket Wrap - # H16
---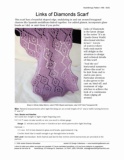 Links of Diamonds Scarf - # H66
---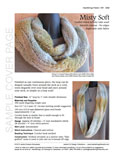 Misty Soft Infinity Tube Scarf / Cowl - # H97
---
Peek-a-Bead Scarf - # H83
---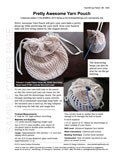 Pretty Awesome Yarn Pouch - # B8
---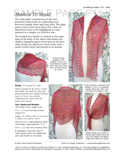 Shallow Tri Shawl - # H57
---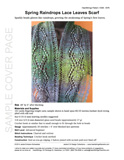 Spring Raindrops Lace Leaves Scarf - # H338
---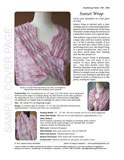 Sunset Infinity Wrap - # H88
---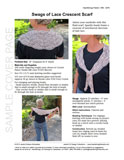 Swags of Lace Crescent Scarf - # H95
---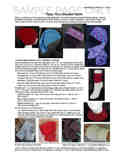 Topsy Turvy Hearts (6 projects) - # S15
---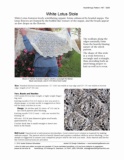 White Lotus Stole - # H67
---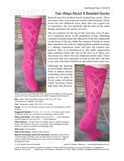 Two Ways About It Beaded Socks - # S34
---
Patterns using size 8/0 beads
(3 mm diameter)
---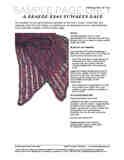 A Beaded Bias Towards Lace Scarf - # A16
---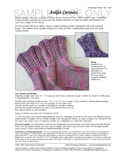 Anklet Coronets - # S03
---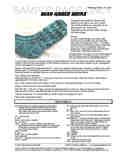 Bead Ribbed Socks - # A75
---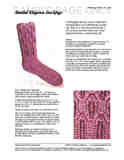 Beaded Elegance Stockings - # S04
---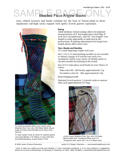 Beaded Faux Argyle Socks - # S02
---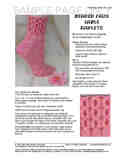 Beaded Faux Cable Anklets - # S12
---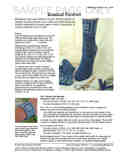 Beaded Fleuron Socks and Wristlets - # S11
---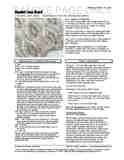 Beaded Lace Scarf - # A42
---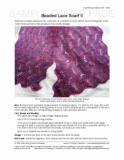 Beaded Lace Scarf II - # A64
---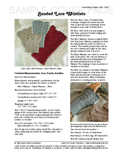 Beaded Lace Wristlets (3 styles) - # A99
---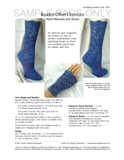 Beaded Offset Chevrons Socks and Mitts - # H46
---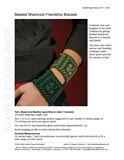 Beaded Shamrock Friendship Bracelet - # S111
---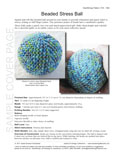 Beaded Stress Ball - # H18
---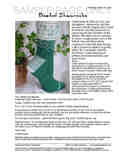 Beaded Shamrock Socks - # S08
---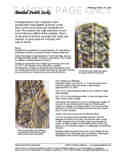 Beaded Swirls Socks - # S01
---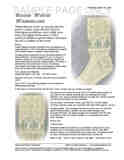 Beaded Winter Wonderland Socks - # S06
---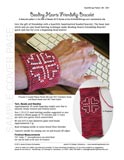 Beading Hearts Friendship Bracelet - # B6
---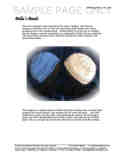 Bella's Beads Cloche (2 styles) - # KH02
---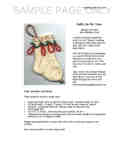 Bells on my Toes Sock Ornament - # A93
---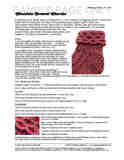 Chocolate Covered Cherries Socks and Mitts - # A77
---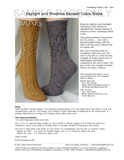 Daylight and Shadows Socks (2 styles) - # S28
---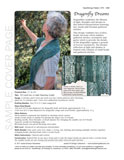 Dragonfly Dreams - # H79
---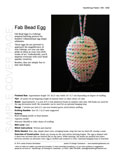 Fab Bead Egg - # H94
---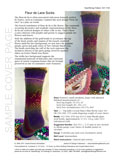 Fleur de Lace Socks - # S31
---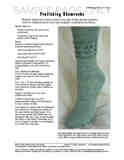 Frolicking Shamrocks Socks - # S10
---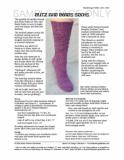 Glitz and Beads Socks - # S33
---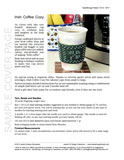 Irish Coffee Cozy - # S112
---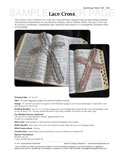 Lace Cross - # A98
---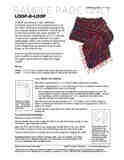 Loop-D-Loop Scarf (2 styles) - # A74
---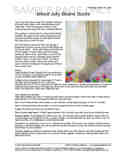 Mixed Jelly Beans Socks - # S07
---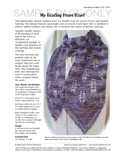 My Beading Heart Scarf - # H47
---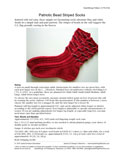 Patriotic Bead Striped Socks - # A175
---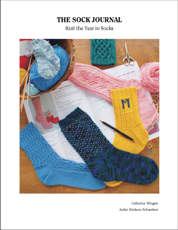 Renaissance Socks - in The Sock Journal book
---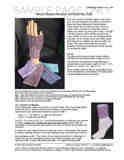 Simple Beaded Wristlets/Sock-Nots (4 versions) - # S14
---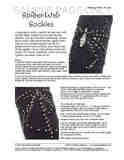 Spider-Web Sockies - # A68
---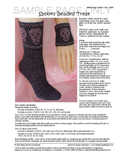 Spooky Beaded Treat Wristlets and Socks - # S18
---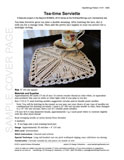 Tea-time Serviette - # H147
---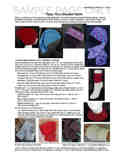 Topsy Turvy Hearts (4 projects) - # S15
---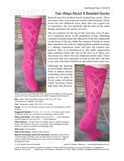 Two Ways About It Beaded Socks - # S34
---
Patterns using size 11/0 beads
(2 mm diameter)
---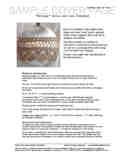 Antique Satin and Lace Ornament - # A81
---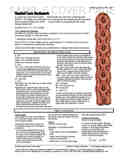 Beaded Lace Bookmark - # A56
---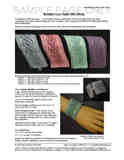 Beaded Lace Cable Bracelets (4 versions) - # A94
---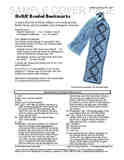 Helix Beaded Bookmarks (2 versions) - # H57
---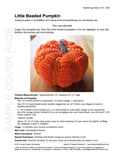 Little Beaded Pumpkin - # B12
---
Lorna's Light Necklace Purse or Bookmark - # H58
---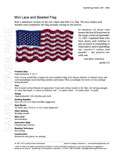 Mini Lace and Beaded Flag - # A91
---