WHAT'S NEW
---
Get News & Specials
Sign up for free
---
♥

PRODUCTS

♥

The Pattern Collections
Easy Knitting
Scarves/Stoles
Faroese Shawls
Other Shawl Shapes
Sweaters & Vests
Socks & Fun Footwear
For the Hands
Neck & Up Coverings
For the Man
For Baby
Home Decor
Jewelry
Minis and Miscellany
Bookmarks
Toys
Holidays & Seasons
Comfort Collection
I Hate to Purl
All Beaded Patterns
PDF Pattern Catalog
Patterns by Yarn Weight
Tutorials

---
♥

SHOPPING

♥

Downloadable Patterns
Ravelry
Craftsy
Patternfish
KnitHeartStrings
Printed Patterns
Kits and Supplies
---
♥

STAY IN TOUCH

♥

Newsletter Archive
Jackie's Blog
---
Free Gift
Want to help me with some of the costs of providing free educational resources? Every donation counts. Your donation, small or large, is very much appreciated. Thank you!
---
"Your patterns are just fabulous ... unique and yet based on tradition."

- Jennifer C.

"I just love the simplicity of your patterns and the complexity of their appearance."

- Maureen M.

"

"I enjoy your website. It is easy to use and full of information ..."

- Debby L.

"... I love Heartstrings patterns. They are clear and well presented and Jackie Erickson-Schweitzer, the designer, is just a lovely, inspiring woman - well worth supporting by the purchase of the pattern."

- Kimberly L.



Lace Shawl Repair
Repairing my lace knitting disaster
Nearing the big FO (Finishing Object) stage for a shawl, I instead detoured to the "disaster" stage. I washed and went to block the 2-ply shawl from the Shepherd Shawls booklet, and a big area in one of the corners was nearly disintegrated.
(Note: The reason I have documented the process by which I repaired this shawl is to help inspire and build confidence in your knitting. It was not my purpose to sell you this shawl pattern, and the shop from which I had purcahsed no longer carries it. But if you want to find Shepherd Shawls booklets, Linda, one of the HeartStrings website visitors, has kindly let me know that they are still available in New Zealand and Australia at http://www.theyarnqueen.co.nz/shepherd-pattern-books.html and http://www.needlenook.com.au/wools/shepherd_patterns/ respectively.)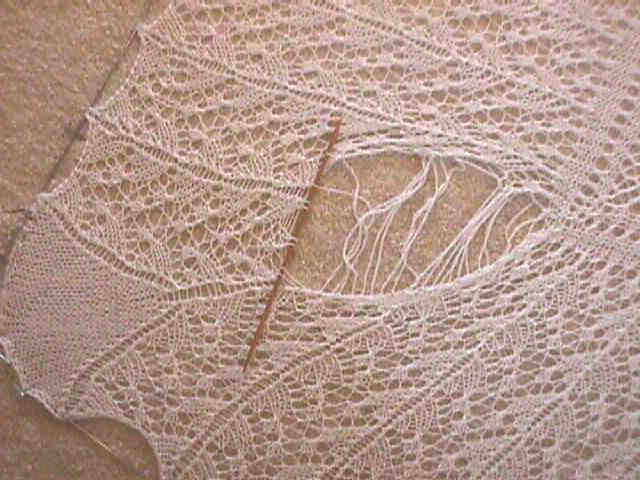 And this is what it is supposed to look like (a pic of an undamaged corner).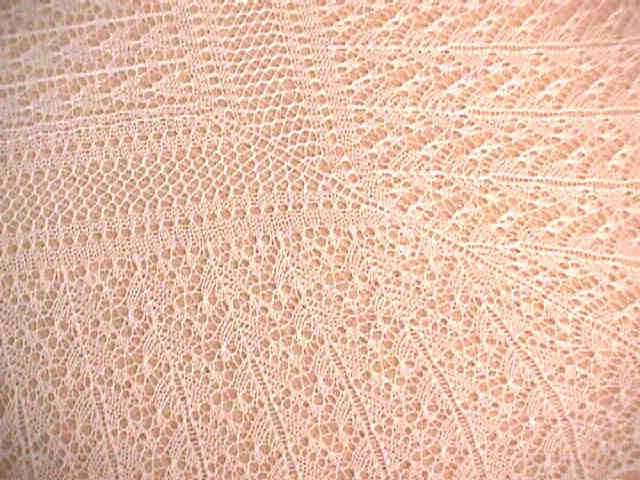 Apparently I missed catching a loop in one of my decreases (probably a k3tog, which was the case I later confirmed). Sometimes I miss those compound stitch manipulations, but I usually catch it before it causes big damage. Also, this was superwash wool I was working with, and it is more slippery than regular wool (which grabs, and even if there is a run, it doesn't go too far). I set it aside to repair when I was mentally fresh and not still p*** off at myself! I got plenty of sympathy from my lace knitting buddies, and good advice like —
sit down with a hot cup of tea
eat some chocolate
get out a good lighted magnifier
wet the area to untangle the ladder threads
be careful to pick up ladder threads in the correct order
etc. etc.
Here is how I tackled fixing this mess.
---
Jessica L. writes ...
Thank you so much for posting the pictures of your progress in repairing the corner of your lace shawl. You inspired the bravery and confidence to patiently correct my own disaster repair in a knitted lace shawl, rather than frogging it all and beginning something all garter stitch! And chocolate does *indeed* help, too. With appreciation, Jessica
It is so nice when people like Jessica and you write to share both your successes and trials and tribulations. I am pleased to be a part in helping to inspire and build confidence in your knitting. When I requested permission of Jessica to share her comments with you, she went on to write ...
Of *course* you may post it! ... Since the time I wrote to you, I've made great progress knitting my shawl - it's up to 1000 stitches per round - yikes! I would never have made it this far if it hadn't been for the new confidence I feel as a result of fixing a section rather than frogging.
I don't feel the need to be so very careful because now I know I can fix an error, so I knit faster. Knitting at a faster speed has a better rhythm to the knitting, so I'm making very few mistakes anyhow - and those are mostly tinkable back a few stitches. I've even done away with all but the end-of round marker.
Seems you've made me a lace knitter.