WHAT'S NEW
---
Get News & Specials
Sign up for free
---
♥

PRODUCTS

♥

The Pattern Collections
Easy Knitting
Scarves/Stoles
Faroese Shawls
Other Shawl Shapes
Sweaters & Vests
Socks & Fun Footwear
For the Hands
Neck & Up Coverings
For the Man
For Baby
Home Decor
Jewelry
Minis and Miscellany
Bookmarks
Toys
Holidays & Seasons
Comfort Collection
I Hate to Purl
All Beaded Patterns
PDF Pattern Catalog
Patterns by Yarn Weight
Tutorials

---
♥

SHOPPING

♥

Downloadable Patterns
Ravelry
Craftsy
Patternfish
KnitHeartStrings
Printed Patterns
Kits and Supplies
---
♥

STAY IN TOUCH

♥

Newsletter Archive
Jackie's Blog
---
Free Gift
Want to help me with some of the costs of providing free educational resources? Every donation counts. Your donation, small or large, is very much appreciated. Thank you!
---
"Your patterns are just fabulous ... unique and yet based on tradition."

- Jennifer C.

"I just love the simplicity of your patterns and the complexity of their appearance."

- Maureen M.

"

"I enjoy your website. It is easy to use and full of information ..."

- Debby L.

"... I love Heartstrings patterns. They are clear and well presented and Jackie Erickson-Schweitzer, the designer, is just a lovely, inspiring woman - well worth supporting by the purchase of the pattern."

- Kimberly L.



Lacie Blankie
Knitted lace blanket in handspun Cotswold wool

by Jackie E-S
This knitted blanket started as a Cotswold fleece, which I prepared and then handspun into a 2-ply light worsted weight (about 65 yards/oz). I had originally started out to knit a blanket in a textured stitch (i.e. non-lace), and kept playing with that last winter when I should have been making some progress working on it. Nothing I tried really "wowed" me. I had given myself a deadline this fall of 1999 to complete it for the "Save the Sheep" awareness promotion that Interweave's Spin-Off magazine is sponsoring. So that meant I had to work on it this summer - yes in the heat, but thank goodness for air conditioning <vbg>.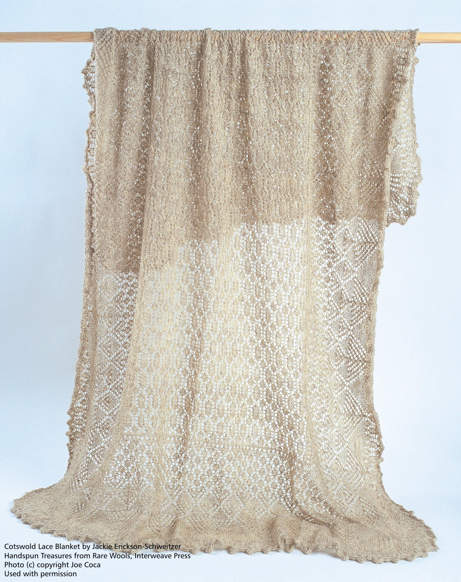 I just can't seem to get away from my love of lace, even when it is "moose lace", i.e. lace knitted in a large gauge. So, my decision to make a blanket in lace stitches maybe should not be all that surprising. The lace makes it lighter in weight for the size, and I think my hubby and I will enjoy it a lot more than a denser blanket for our climate anyway.
It is about 5' by 7' and a little over 2 lbs. To get to that size, I first started with a rectangle 26" x 54" knitted flat on size 8 US needles. Then picked up stitches all around and worked circularly and increased at the corners for a 15" deep border. For the edging, I increased dramatically in the last few rows and blocked into deep 3-dimensional scallops. Talk about a huge project that wasn't very portable after a certain point. I purchased a new 60" long circular needle just to work this!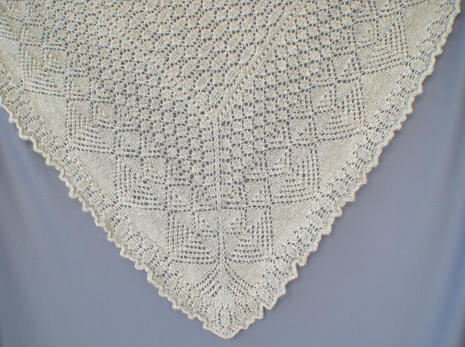 See the collected works from the Save the Sheep Project, including my Cotswold Lacie Blankie, in the book from Interweave Press - Handspun Treasures from Rare Wools.
Note: The book Handspun Treasures from Rare Wools does not contain any patterns. I plan to eventually self-publish the pattern for this lace blanket as part of my HeartStrings knitting patterns line. To receive announcement, be sure you are signed up for HeartStrings Knitterly News e-newsletter.
February 2008 update – The publication of pattern instructions for Lacie Blankie is planned for the March 2008 release of new HeartStrings knitting patterns. The sample model I am working on now for this publication features Judith, a new 100% Prime Alpaca yarn from Schaefer Yarns. The colorway is Georgia O'Keeffe.
March 10, 2008 update – Progress on pattern instructions for Lacie Blankie is proceeding well. Lacie Blankie, a pattern in the making.
March 20, 2008 update – the Lacie Blankie pattern is ready for you!