WHAT'S NEW
---
Get News & Specials
Sign up for free
---
♥

PRODUCTS

♥

The Pattern Collections
Easy Knitting
Scarves/Stoles
Faroese Shawls
Other Shawl Shapes
Sweaters & Vests
Socks & Fun Footwear
For the Hands
Neck & Up Coverings
For the Man
For Baby
Home Decor
Jewelry
Minis and Miscellany
Bookmarks
Toys
Holidays & Seasons
Comfort Collection
I Hate to Purl
All Beaded Patterns
PDF Pattern Catalog
Patterns by Yarn Weight
Tutorials

---
♥

SHOPPING

♥

Downloadable Patterns
Ravelry
Craftsy
Patternfish
KnitHeartStrings
Printed Patterns
Kits and Supplies
---
♥

STAY IN TOUCH

♥

Newsletter Archive
Jackie's Blog
---
Free Gift
Want to help me with some of the costs of providing free educational resources? Every donation counts. Your donation, small or large, is very much appreciated. Thank you!
---
"Your patterns are just fabulous ... unique and yet based on tradition."

- Jennifer C.

"I just love the simplicity of your patterns and the complexity of their appearance."

- Maureen M.

"

"I enjoy your website. It is easy to use and full of information ..."

- Debby L.

"... I love Heartstrings patterns. They are clear and well presented and Jackie Erickson-Schweitzer, the designer, is just a lovely, inspiring woman - well worth supporting by the purchase of the pattern."

- Kimberly L.



Lace Sampler
An ongoing research project
This Lace Sampler is a work-in-progress, just as many samplers-of-old were throughout a needle artist's lifetime. Even in its unfinished state, it is beautiful, educational, and a good reference for lace structure and stitch pattern design.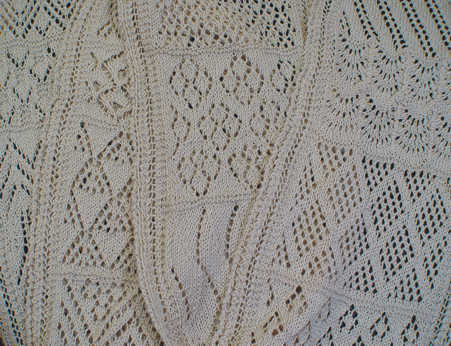 You might recognize the picture from the photo banner for my Primer on Knitted Lace article in the Summer 2006 issue of Interweave Knits (beginning on page 68 just in case you want to look it up).
My sampler is based on the stitch patterns in Knitting Lace: A Workshop with Patterns and Projects by Susannah E. Lewis. Compared to the original sampler in the Brooklyn Museum that Lewis studied and reproduced instructions for, I've taken liberty to work my sampler in heavier thread, larger needles, add a knit-as-you-go border, and alter stitch pattern multiples and repeats as I deem pleasing.
I am basically using this sampler as a "research" piece. I wanted the stitches large enough for normal people like me to see. Although I can knit on much tinier tiny needles quite easily, it is only if I don't have to see what I am doing except an occasional time when the jeweler's visor goes on my head to magnify my work. I definitely don't want to have to be wearing the visor thing all the time, and I really do want to get full value from this sampler exercise to understand what the stitches are doing.
I chose a mercerized 6/2 pima cotton (i.e. a bit finer than fingering weight) in a light neutral color and size US 2 (2.25mm) needles. This thread has soft hand, yet a sheen and enough crispness to emphasize the stitches and texture of the lacy structures. I purchased the pima cottton on a cone from Robin and Russ ages ago (and since Robin and Russ closed business quite some time ago, you know that this thread is well-aged, lol).
Unfortunately, Lewis's book Knitting Lace has long been out of print and commands a high price even if you can find a copy that is up for sale. You can believe that I am hanging onto my book. I won't even lend it out, lol. Lewis's discussion on lace structure, lace design, etc. is excellent. I think that a lot of people get sidetracked that it is only a stitch pattern book, but it is so much more. And the story behind the sampler and the making of the book is really interesting, too.
Update: Back in print from Schoolhouse Press as of October 2009.