WHAT'S NEW
---
Get News & Specials
Sign up for free
---
♥

PRODUCTS

♥

The Pattern Collections
Easy Knitting
Scarves/Stoles
Faroese Shawls
Other Shawl Shapes
Sweaters & Vests
Socks & Fun Footwear
For the Hands
Neck & Up Coverings
For the Man
For Baby
Home Decor
Jewelry
Minis and Miscellany
Bookmarks
Toys
Holidays & Seasons
Comfort Collection
I Hate to Purl
All Beaded Patterns
PDF Pattern Catalog
Patterns by Yarn Weight
Tutorials

---
♥

SHOPPING

♥

Downloadable Patterns
Ravelry
Craftsy
Patternfish
KnitHeartStrings
Printed Patterns
Kits and Supplies
---
♥

STAY IN TOUCH

♥

Newsletter Archive
Jackie's Blog
---
Free Gift
Want to help me with some of the costs of providing free educational resources? Every donation counts. Your donation, small or large, is very much appreciated. Thank you!
---
"Your patterns are just fabulous ... unique and yet based on tradition."

- Jennifer C.

"I just love the simplicity of your patterns and the complexity of their appearance."

- Maureen M.

"

"I enjoy your website. It is easy to use and full of information ..."

- Debby L.

"... I love Heartstrings patterns. They are clear and well presented and Jackie Erickson-Schweitzer, the designer, is just a lovely, inspiring woman - well worth supporting by the purchase of the pattern."

- Kimberly L.



Join Without Twisting
Avoid mishaps of twisting your stitches while joining for circular knitting

by Jackie E-S
This method is especially useful when there are lots and lots of stitches involved and/or using finer yarns where you can't easily see or feel the stitches (e.g. laceweight yarn). It also helps to easily count groups of stitches for pattern multiples, and to confirm number of stitches cast on.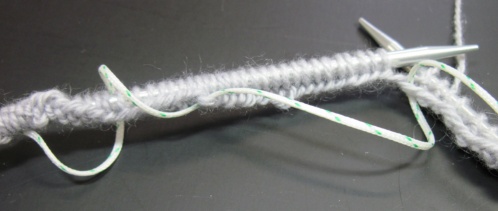 How many times have you seen this phrase in a pattern for knitting in the round? "Join without twisting ...". Seems straight-forward enough, right? You probably heed the advice to check, and then re-check once more, to make sure stitches are not twisted before joining into your round.
I have to admit that I have goofed more than once. I don't like to waste time on goofing, darn it. When there are relatively few stitches, at least it's not too big of a deal to rip and start over.
But what about when there are LOTS of stitches? If you are like me, you want to avoid mishaps after investing much time in casting on and knitting a few rounds, only to then discover a problem despite your best efforts to avoid a twist.
So I've developed a short step-by-step tutorial for a foolproof method (assuming you follow the steps, lol) to join without twisting when there are lots and lots of stitches.
I hope this method helps you get off to a good start on projects that may have challenged you to "join without twisting ...". Let me know how it goes!
Join Without Twisting is available for immediate download in PDF format. 6 pages, 8 pictures. Valued at $5. A donation is appreciated but not required. Or buy one of the patterns below where you can put this technique to use right away. Click here to view and print.
And just in case you want to have a project or two lined up on which to use the "Join Without Twisting" method, check out these patterns:
Return to Tutorials.