WHAT'S NEW
---
Get News & Specials
Sign up for free
---
♥

PRODUCTS

♥

The Pattern Collections
Easy Knitting
Scarves/Stoles
Faroese Shawls
Other Shawl Shapes
Sweaters & Vests
Socks & Fun Footwear
For the Hands
Neck & Up Coverings
For the Man
For Baby
Home Decor
Jewelry
Minis and Miscellany
Bookmarks
Toys
Holidays & Seasons
Comfort Collection
I Hate to Purl
All Beaded Patterns
PDF Pattern Catalog
Patterns by Yarn Weight
Tutorials

---
♥

SHOPPING

♥

Downloadable Patterns
Ravelry
Craftsy
Patternfish
KnitHeartStrings
Printed Patterns
Kits and Supplies
---
♥

STAY IN TOUCH

♥

Newsletter Archive
Jackie's Blog
---
Free Gift
Want to help me with some of the costs of providing free educational resources? Every donation counts. Your donation, small or large, is very much appreciated. Thank you!
---
"Your patterns are just fabulous ... unique and yet based on tradition."

- Jennifer C.

"I just love the simplicity of your patterns and the complexity of their appearance."

- Maureen M.

"

"I enjoy your website. It is easy to use and full of information ..."

- Debby L.

"... I love Heartstrings patterns. They are clear and well presented and Jackie Erickson-Schweitzer, the designer, is just a lovely, inspiring woman - well worth supporting by the purchase of the pattern."

- Kimberly L.



All-Over Lace Faroese Shawl
HeartStrings knitting pattern #A16
Another of the popular HeartStrings Faroese shaped shawls, this time in an allover stockinette stitch lace version. The pattern begins with the center back neckband, then proceeds from the neck down in charming lace silhouetted heart motifs. Yarn over increases and the lace patterns themselves are used to shape the traditional center back panel, side panels, front bands, and fitted shoulders. This design adds a band of garter stitch at each side of the center back panel, giving further definition to the graceful lines of this shawl.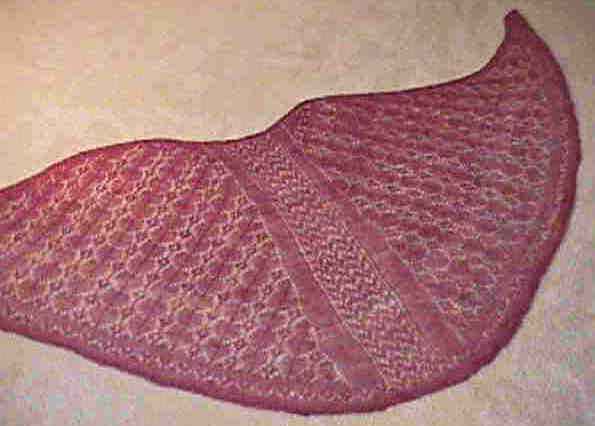 Planned for 32" long and 48" across at widest point as worn. 1200 yards fingering/jumper weight yarn, 4 sts/inch, size US 8 / 5.0 mm needles suggested. Knitting starts with just a few stitches at the top and works downward. Easily adjusts to other sizes by knitting to length desired, and other weights of yarn with corresponding adjustment in needle size and yardage. Shown in 2-ply laceweight handspun in a blend of merino wool / alpaca / silk / mohair. Charted instructions.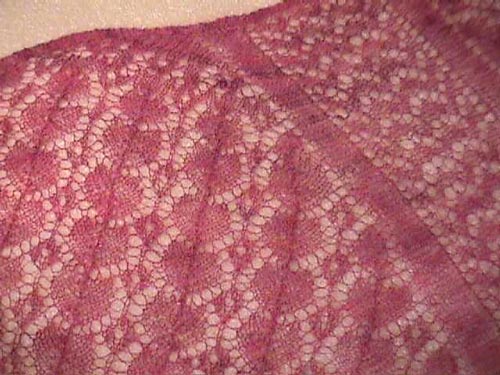 Another example below of the All-Over Lace Faroese Shawl, this time in a commercial 100% alpaca fingering weight yarn.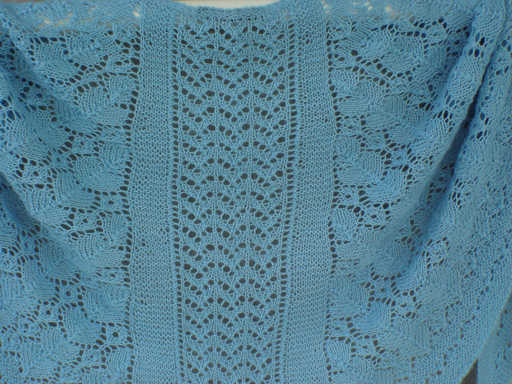 ---
| | |
| --- | --- |
| | This was Kelly's first Faroese shawl and I am delighted she picked the All-Over Faroese Lace Shawl. The yarn is dyed in the Gradiance technique she developed for The Unique Sheep. Isn't it stunning! You can see more pictures and read the story on Kelly's Ravelry project page about how she began making the shawl for herself, but then it became "Wool Therapy" for her mother-in-law upon being diagnosed with breast cancer just as the shawl was being completed. |
---
Rosemary S writes ...
Love your patterns! I am currently working on (and almost finished) the All-Over Lace Faroese Shawl in Slate Icelandic laceweight yarn. I have about 40 rows left, and I am enjoying knitting this so very much, I had to write to thank you for such a beautiful pattern. This shawl is an absolute delight to knit too, and thanks to you, I can read charts (my first attempt at this) without being scared to death about it :) Thanks again Jackie... I LOVE your work, and hope to be able to get more of your shawl patterns very soon.
Mary Lee H writes ...
I just finished Jackie Erickson-Schweitzer's All-Over Lace Shawl pattern, and it is beautiful! Like a lot of lace, it doesn't properly show itself on the needles, but after washing (to "bloom" the yarn) and blocking, my goodness!

I want to comment on a couple of things in this pattern that I thought were particularly well thought out, and wish more designers would think of doing. The pattern is one with a center panel that doesn't change, and two side triangles that increase. At the end of the pattern for the triantles, Jackie has put what line you are to do for the center panel. This way yu don't have to worry about keeping track of where you are on two charts of dfferent lengths.

Another thing is which patterns she chose. I was a bit reluctant to try this pattern, because the lace looked complicated and I hate having to look at patterns every single minute (but get too bored with garter stitch, for instance). But it was so beautiful in the picture, and I was very intrigued by the shaping. As it turned out, I needn't have worried.

First, both the side triangles and the center panel have a plain purl row on the returns, so you get a bit of a rest. Second, both patterns in general have a very easy row-by-row patterning, so that, for example, you look at the chart at the beginning of a row, see that you will do a very simple repeat of YO K YO K4 K3tog K4, and that is all you have to remember for the triangles. When you are nearing the end of the shawl, and have a lot of stitches on the needle, being able to concentrate on your work instead of the chart is extremely welcome. Very good choices of patterns for a work of this size and demands!
---
Get a free PDF preview of the pattern cover page and detailed specifications.

Click thumbnail to open document in new browser tab or window. Requires Adobe Reader to view.
See more Faroese Shawl Patterns in the Jackie E-S Design Collections.