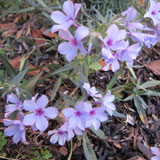 Hi knitting friends,

Goodbye February - hello March! While some parts of the country are still fighting old man winter, the calendar says Spring is almost here in the Northern hemisphere.

In the spirit of getting ready for Spring, the above banner photo features the Buds in the Breeze Stole. The "Dreaming of Spring - Knitting for Spring" section below also includes a selection of HeartStrings patterns with garden and flower themes to inspire your knitting needles.

We're getting ready for Spring at the KnitHeartStrings site with the Fab Bead Egg, so read on and join us there to start the KAL soon. KnitHeartStrings KAL's are an opportunity to grow your knitting skills, reinforce and grow confident, or simply be inspired and enjoy knitting with other knitters.

Happy knitting and enjoy the newsletter!

Brgdvm wrote: " this is what I really love about the KnitHeartstrings KALs - they challenge and teach me so much in small, very manageable bits ... I cannot believe how much I have learned in such a short time. "
---
The longest time it took you to finish?
I've always said that knitting should not be a race. Maybe that attests to the multitude of UFO's (UnFinished Objects) in my studio and closets, lol. With that in mind, one of my new year resolutions is to turn some of those into completed items for gifts and charity (and something maybe even myself).

What is the longest time it took you to finish a knitting project? Here's the story of one that took me 12 years! Sweet Melody Vest
At the rate I am going with some of my other UFO's awaiting, it could be 20 years (or more?)! But I am not giving up on any that still interest me, and I hope you won't either. Let me know, and we can cheer each other on.
---
Dreaming of Spring - Knitting for Spring
Some of the HeartStrings patterns with garden and flower themes

As thoughts start turning to sprucing up the gardens for the growing season, let's look at a few of the favorite HeartStrings patterns with flower and plant themes to keep your knitting needles happy.
| | |
| --- | --- |
| Waves and Flowers | Spring Raindrops |
| | |
| --- | --- |
| Hanging Vines | Buds in the Breeze |
| | |
| --- | --- |
| Pinwheel Flower | Beanstalk Lace Top |
Did I miss one of your favorite HeartStrings patterns for Spring knitting or one you are thinking about knitting? Let me know!
---
Beaded Egg KAL at KnitHeartStrings
3-dimensional easy-to-knit egg glistening with colorful beads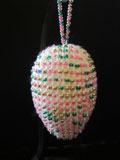 Get ready for the prettiest Easter egg hunt ever when you knit your own beaded eggs! Fab Bead Eggs is a Faberge-inspired knitting pattern for beaded 3-dimensional egg shape whimsies.

These eggs do not pretend to approach the magnificence of true Faberge, yet you can take pride in them as your own little works of art. Undoubtedly, you'll impress everyone with your bead-sparkly creativity. Besides, they are simply fun to knit and display.

See the Knit-A-Longs page at HeartStrings for more information.

If you haven't joined KnitHeartStrings KAL's yet, you can still do so. Don't miss out on this! JOIN NOW. There is no charge to join. Free and paid memberships are available to match your budget and interests, with pattern discounts for KALs ranging from 50% - 100%. Extra benefits, too.

Spinning Jacob Wool - One Fleece, Many Colors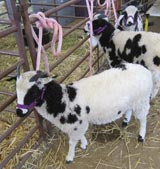 Jacob sheep are small, multi-horned animals somewhat resembling goats. I love their spotted colors because of the fun I've had with their wool fleeces. From just one Jacob Sheep fleece, you can create a palette of natural tones from light to dark. Read on ...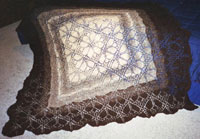 Handy Links

What's New


Design Gallery


Kits and Supplies


Newsletter Archive

Nifty Nuggets
Knitted Bunny (free)
Make a bunny from a knitted swatch square — it's almost as clever as pulling a rabbit out of a hat. Get the pattern for free ...


---
How to Wind a Center Pull Ball of Yarn without Special Equipment
Don't avoid skeins of yarn because you think you need special equipment to wind them. This is the method I first learned for winding a ball of yarn by hand. Thanks to scoochmaroo for putting together this well-done step-by-step photo tutorial. Read on ...
---
Monthly Prize Drawings
are part of the fun that is continuing in 2015 at the KnitHeartStrings KAL site. Prizes change each month and you could win! Check it out ...

---