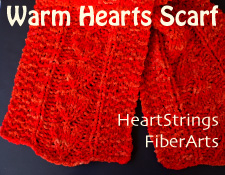 Hi to my dear knitting friends and fans,

I've been beset with technical difficulties this month, but am determined to get this January newsletter out in January even if it is the last day on the month!. I hope this makes it to you ok. If you sense any problems in the website or newsletter, do let me know and I will be glad to try to sort it out.

When it's chilly, there's almost nothing better than cuddling up with a hot cup of tea and a warm, hand-knitted blanket or afghan like the Warm Hearts Comfortghan pictured above. You can even stay warm while you knit one — it's a built-in coverup as the size grows. See Warm-Up Knitting below for more afghans and blankets to tempt your knitting needles.

Looking for a smaller, quicker project to warm your heart (and maybe someone else's?). Cast on just 25 stitches in worsted weight yarn on size US 9 needles for the scarf version of Warm Hearts, then follow the remainder of the pattern as instructed for the afghan size. This is one of the scarves I donate to WomenHeart, the organization devoted to improving the quality of life and healthcare for women living with heart disease. To support the battle against heart disease, also see "Wear Red Day" in the Nifty Nuggets section.

Stay warm, safe and happily knitting!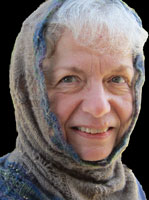 Lori I. wrote: "... you've made knitting come alive for me again, and I don't want to miss a thing."
---
14% Off Heart-Themed Patterns
You probably would not be surprised to hear that Valentine's Day is one of our favorite holidays at HeartStrings! In celebration, get 14% off HeartStrings heart-themed patterns thru February 14, 2015 at RAVELRY. No minimums or maximums. Use the coupon as many times as you want. Let your knitting friends know. Share the love!



---
Warm-Up Knitting: Afghans and Blankets

When it's chilly, there's nothing better than a warm, hand-knitted blanket or afghan. You can even stay warm while you knit one — it's a built-in coverup. :)

HeartStrings patterns for afghans and blankets span the range of easy to challenging in sport weight to worsted weight. Take your pick and let's get knitting!


| | |
| --- | --- |
| Warm Hearts | Filigree Lace-edged |
| | |
| --- | --- |
| Elegantly Simple (*free) | Lacie Blankie |


(*) The Elegantly Simple Baby Blanket is donationware and a charity knitting pattern. You can download for free; donations are appreciated but not required.
---
Lace Embellished Towel KAL at KnitHeartStrings
Turn an ordinary towel into something extraordinary ...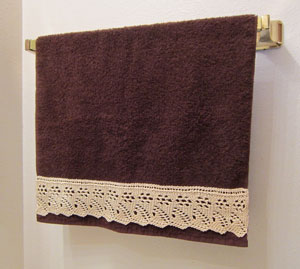 We are going Beyond BOBBOL again in 2015 with projects tailored to appetizer portions of unique stitches and techniques made easy with KnitHeartStrings extra hand-holding KAL's. Even if you already know how, I think you will find the projects fun (and who knows, you might even pick up a tip or trick along the way).

Each month's KAL project will be selected with a focus on building skills in bit-sized steps. Some projects will be lace and some not. Some will be beads and some not. Some will go beyond lace and beads to try new things in other areas. There will be something for everyone along with surprises and prizes.

To celebrate the new year, we are kicking off BOBBOL 2015 with a brand new, never before offered pattern in the HeartStrings pattern collections: Lace Embellished Towel. Whether for yourself or a gift for someone else, this lace-edged towel will have a special place in the heart and home.

See the Lace Embellished Towel KAL page at HeartStrings for more information and pattern availability with special discounts thru February 15, 2015.

If you haven't registered on the KnitHeartStrings KAL site yet, there is still time to do so now so you don't miss out on all of BOBBOL 2015! There is no charge to register and try it out. JOIN NOW.
Tea Time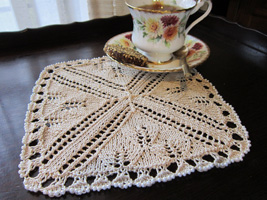 Links to 8 tutorial articles for the Tea-Time Serviette, including how to dye with tea. Learn then do ...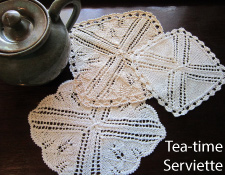 Handy Links

What's New


Design Gallery


Kits and Supplies


Newsletter Archive

Nifty Nuggets
"Thinking of You" Youtube pattern presentation
HeartStrings fan, Inger Json discovered the Thinking of You Scarf at Craftsy and made this nice video slide presentation for Youtube. Watch it now ...
---
Wear Red Day - Feb 6th
Support medical research and education programs that help women live longer, heart-healthy lives. Learn more ...

---
Brown Sheep Company Continues Founder's Legacy
The story of how Brown Sheep Yarn Company got started and how daughter Peggy carries on her father's vision. Read on ...
---
2015 Monthly Prizes - Enter to Win!
Thanks to everyone for participating in the KnitHeartStrings KALs over the last few years. Your membership is truly appreciated. Here's to another year of knitting fun together.

The monthly prize drawings are part of the fun that is continuing in 2015. Prizes change each month, so check back often. See what you can win now ...

---