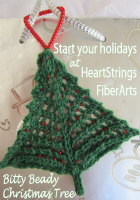 Hi knitting friends,

Who opened the freezer door? Brrrr... it's cold, and can you believe it is only November. If it keeps up like this heading into winter proper, we all will certainly need plenty of more warm, comfy knits!

Outerwear like hats, socks and mitts, sweaters and accessories for layering, in-home coverings -- HeartStrings has pattern variety to fit your knitting mojo and needs for yourself and loved ones you knit for. I've highlighted just a few suggestions in the title article below - Warm and Comfy

With the upcoming holidays, this is an especially active time for knitting gifts. To help you with your holiday knitting, the Indie Design Gift-A-Long is now underway at Ravelry again this year. Join in for games, prizes, sales, knit alongs, plus lots of camaraderie and cheer. More information in the Nifty Nuggets section of this newsletter.

Don't have time to knit a gift? See Knitter's Gifts for ready to wrap ideas.

In keeping with our wave of early winter weather, the newsletter banner above features Lacyflakes Knitted Snowflakes. And the sidebar picture to upper left is there to not only remind us of the fast-approaching Christmas season, but also to highlight the Bitty Beady Christmas Tree Gift Kit that is this month's prize drawing at KnitHeartStrings.

Hope you enjoy this month's newsletter. I welcome feedback if you have suggestions, or just want to lend a word of encouragement. Are there things you especially like or would like to see more of? Things missing? I want to make Knitterly News and my knitting patterns the best they can be for you.

Thanking you and wishing you a Happy Thanksgiving,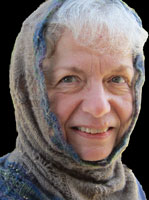 Tanya S. wrote: " I just upgraded to premium from basic level. Thank you so much for your continued work. You are my favorite designer! I have to resist buying ALL of your patterns, but only because I don't have time to knit them all."
---
Warm and Comfy
Team up HeartStrings patterns with your favorite warm and cozy yarns for the winter months ahead. Here is a small sampling of outerwear, layering accessories and in-home coverings to inspire your knitting mojo:




No Two Alike Snowflakes

The Fair Isle color stranding of these cuddly Mittens and Hat keep you doubly warm against the cold.

Team up with DK/worsted weight wool or mohair yarn in colors of your choice against a snowy white background. Kits available



Country Girl Socks

These lace-patterned socks look dainty and dignified, while keeping your tootsies warm and toasty.

Team up with your favorite comfy fingering weight sock yarn.



Filigree Lace Neck Warmer and Wrist Warmers

Use layering to add just the right amount of warmth without the added bulk of wearing full garments.

Team up with a classic yarn like Brown Sheep Naturespun Sport or any other soft and cozy smooth texture sport weight yarn.



Warm Hearts Comfortghan

This snuggly lap blanket/afghan is a comfort to knit and give to loved ones.

Team up with Brown Sheep Lambs Pride Superwash or a worsted weight yarn of your choice.



Chevron and Ribs Buttoned Vest

This sleeveless cardigan is designed to knit up easily and quickly. If you hate sewing and finishing, you'll love this "when you're done, you're done" pattern.

Team up with Brown Sheep Lamb's Pride Bulky wool/mohair yarn or bulky weight yarn of your choice.

Anne C. wrote: " Time enough to knit one for a Christmas gift … "

---
Knitter's Gifts
Don't have time to knit all your gifts? Take a look at these ready to wrap gifts for knitting friends and non-knitters alike. $2 up.


| | |
| --- | --- |
| | |
| | |
| --- | --- |
| | |
---
November KAL at KnitHeartStrings
Beaded Basket Weave Mosaic Hat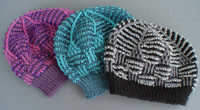 Do you love beads and glitz? Then this one is for you. November's Beyond BOBBOL Learn-and-Knit-A-Long focuses on slip-stitch color techniques and beads.

The project is Beaded Basket Weave Mosaic Hat. You'll make a snazzy hat in two colors of DK weight yarn of your choice and size 6/0 seed beads.

Although the colorwork might appear involved, the slip-stitch color knitting is simple because you only need to handle one yarn color at a time. The beads give an added depth of color and look of complexity to an otherwise simple beaded knitting technique.

See the Beaded Mosaic Knitting KAL page at HeartStrings for more information and pattern availability with special discounts until November 25, 2014.

If you haven't joined KnitHeartStrings KAL's yet, do so now so you don't miss out on this! JOIN NOW. There is no charge to join. Free and paid memberships available.

Quinoa Pudding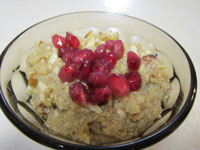 Gluten-free and dairy-free. Healthy. Tasty. Whether you enjoy this quinoa pudding as dessert or for a nutritious breakfast, what's not to love? Quinoa Pudding Recipe
Handy Links

What's New


Design Gallery


Kits and Supplies


Newsletter Archive

Nifty Nuggets
The 2014 Indie Design Gift-A-Long at Ravelry is underway at Ravelry now through the end of the year! This is a community cyber-gathering to complete holiday knitting with games, prizes, sales, knit alongs, plus lots of camaraderie and cheer. To kick-off your knitting, my gift to you is 25% discount off any of these 20 select HeartStrings patterns when you use the coupon code "giftalong2014" at Ravelry until end of day Nov 21 EST.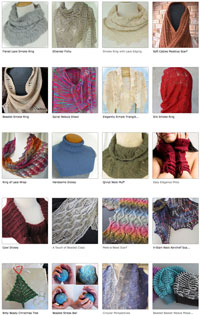 Drop by the Indie Design Gift-A-Long group on Ravelry now to join one of the many knit or crochet alongs. This is when the fun begins! Just by knitting any HeartStrings pattern (whether it was a sale pattern and no matter when you purchased it), you can qualify for literally thousands of prizes to be given away between now and the end of the year. On your mark ... get set ... GIFT!
---
NO SEW Method for Attaching Buttons
Have you ever thought about attaching your buttons directly onto a sweater button band as you knit/crochet, rather than sewing them on afterwards? Here is how ...


---
Win a Bitty Beady Christmas Tree Gift Set - Enter Now
Win this month's prize at KnitHeartStrings for a complete kit including hard-copy pattern, yarn, beads and coordinating gift card/envelope. More info ...


---