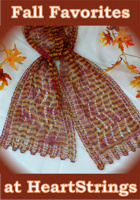 Hi knitting friends,

Where did the month go? The autumn colors are blazing here in Colorado. Which means I will be flying South like the birds before the colder weather sets in. Before I do though, I wanted to say "hi" and ask how your knitting is going?

For this month's newsletter, I'm trying out a new feature in the right-hand corner of the sidebar called Kitchen Korner. What does this have to do with knitting? Well, I've never met a knitter who didn't like good food. That includes me, so I invite you into my kitchen to partake in one of my favorite health-conscious recipes each month.

Don't be concerned that this is turning into a non-knitting newsletter, though! There'll still be lots of articles and nifty nuggets to appeal to our knitting needles when we aren't in the kitchen. <g>

Thanks to Penny (happyspider6 on Ravelry) for sharing a photo of the adorable Spider Web Sockies she knit several years ago. This has always been one of my all-time favorites and never fails to make me smile. Hope it brings a smile to your face, too. The pattern is part of the HeartStrings Fall Favorites collection and is available here.

That's me at Garden of the Gods near Colordo Springs earlier this month. A silly photo where John was trying to make it look like I was holding up Balanced Rock. What is life if you can't have a little fun? Hope you are having fun this fall, too.

Now let's get on with the rest of the newsletter. Enjoy!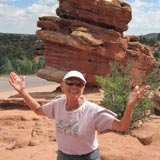 Bobbe J. wrote: "Jackie, you have a great heart...kind and helpful always..thank you for sharing your magic with all of us."
---
Make It Personal
Whether for yourself or for gifts, we are so lucky as knitters to be able to personalize with all the wonderful yarns and colors that are available.

A gift becomes even more personal because we can choose yarns in the recipient's favorite colors, or their favorite sports team colors, etc.

As the weather cools down and you get your gift projects lined up, team up HeartStrings patterns with your favorite warm and cozy yarns. Here are some ideas to get you started –

Flared Lace Smoke Ring makes a versatile accessory that can be worn around the neck or pulled over the head as an elegant head covering. The design features a stunning knitted lace pattern of ribs that radiate like a fan.

Team up with lace or fingering weight luxury yarns like alpaca, cashmere, angora, qiviut, etc. More information
Handsome Dickey is a quick and easy-to-knit sweaterette suitable for teens, men and women. It's great to wear as a casual dress-up under a shirt, crew neck sweater or sweatshirt. The dickey is knitted starting with a handsomely patterned turtleneck, then proceeds seamlessly to the raglan-style yoke.

Team up with a classic yarn like Brown Sheep Naturespun Sport or any other soft and cozy smooth texture sportweight yarn. More information
This roll-brim hat features a decorative Norwegian Braid band. Made in luxury yarn, its softness will bring warmth and comfort to body and soul.

Team up with your choice of worsted weight yarns or work with sport weight doubled. More information
What are your favorite HeartStrings cold weather patterns to knit for gifts, or one(s) you are thinking about knitting? Let me know!
---
Get Ready for October's KAL at KnitHeartStrings
Smoke Rings — Beautiful and Practical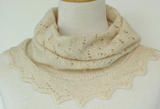 Our next Beyond BOBBOL Learn-and-Knit-A-Long revisits lace edgings, the Bits of Lace focus area that started off KnitHeartStrings in 2012!

The project is Smoke Ring with Lace Edging, a beautiful and practical accessory you can wear laid on your shoulders as a dressy cowl neckline, or pulled over your head as a wimple. A smoke ring is also sometimes referred to as a natchaq.

See the Next Up KAL page at KnitHeartStrings for more info, Shopping List and event dates.

If you haven't joined KnitHeartStrings KAL's yet, do so now so you don't miss out on this! JOIN NOW. There is no charge to join.

---
Troika Patterns - 2 For Free, 1 For Fee
I borrowed the word "troika" from the original Russian, meaning a "set of three". The Troika Technique uses 3 strands of yarn that are worked 1 strand each row in a rotating sequence. Coincidentally I currently also have 3 patterns you can enjoy knitting with this technique.

Troika Scarf is a super easy odd-ball, stash-busting knit sideways along the length in garter stitch using any 3 different yarns in sport weight to chunky you have on hand or might dig out of your LYS's close-out sale bin.

Pattern available for free here.
Troika Wrap-Around Faroese Shawl is a wonderfully simple and fun shawl shaped like a giant butterfly. Knitted in a troika 3-ball garter stitch technique from the top-down, this is a great pattern for using a mix of novelty and stash yarns.

Pattern available for purchase here.
Spot Woven Dishcloth was the September KAL knit-and-learn-along project at KnitHeartStrings. In addition to using the troika technique, this project teaches spot weaving using 2 working ends of a main color and 1 end of accent spot color.

Pattern available for free here with KnitHeartStrings membership. Not a member? Join Now - There is no charge to join.
Buffalo, anyone?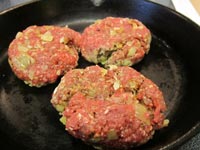 I don't eat much meat anymore, but when I do it is 100% grass-fed buffalo I turn to for my red meat choice. It's leaner than beef, is organic, has no added growth hormones or antibiotics, and I think it is tastier than beef. Here's a great recipe to introduce yourself to eating buffalo ... John's recipe for Bison Burgers
Nifty Nuggets
Knitting for Health and Happiness
We already knew how beneficial knitting can be, but it's nice to see others talking about it in the news, too! Read the Sacramento Bee ...
---
September Prize Drawing - Enter Now
Check out September's Prize Giveaway of The Skinny on Lace Kit. Just 2 more days to enter if you have not already done so or want to up your number of entries. More details ...


---
Buffalo Wool Company in the Competition Finals
Keep the buffalo roaming and vote for Buffalo Wool Company as this year's winner of the Martha Stewart American Made contest. While you are at the site, be sure to read the interesting story behind the Buffalo Wool Company and how Dad Cecil, Ron and Theresa Mishkin have built this company into a leader in the American fiber industry.