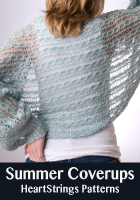 Hi knitting friends! Summer is at its height here in the high plains of Colorado, so I am escaping to an even cooler, higher altitude in the Grand Tetons of Wyoming for a few days. Wish me luck as I try out my new hiking shoes, lol. How are things by you?

There's lots of exciting things going on besides summer traveling, too. Shown above in the banner is the new Circular Perspectives Cowl -- AND there is KAL starting just a few days from now at the Mountain Colors group on Ravelry. Not to mention the on-going monthly BOBBOL KAL's at KnitHeartStrings. Read on for more info.

In summer when the heat is up, I hope it doesn't deter you from knitting. If you need some motivation, check out the current Top Six Summer "What's Hot" selling patterns.

I hope you enjoy the rest of the newsletter, too. Stay safe and stay cool. Happy knitting,

Karen S. wrote: "Thank you for linking me to your fan club. Your designs are so much fun to knit and I can't wait to do the next one."
---
What's Hot this Summer
A count-down of the top Six Summer HeartStrings Patterns to inspire you and your knitting needles

Here's what's trending at HeartStrings. Click on the pictures for more info and free downloads of sample cover sheets.
| | |
| --- | --- |
| | #6 Ethereal Fichu is a sheer and flowing long triangular shoulder wrap knit in geometric lace motifs. This is a good project to make in a special exotic fiber you've always wanted, as it requires only a small amount of laceweight yarn. |
| | |
| --- | --- |
| | #5 Put on the Glitz is a lusciously flowing shrug iin delicate cabled lace. It is knitted cuff to cuff with no seams to sew. A perfect weight for summer evenings and taking you into the cooler days of Fall. |
| | |
| --- | --- |
| | #4 The fluid design of Lead or Follow Lace Scarf is a wonderful study in the behavior of lace knitting when yarn overs are placed in various positions relative to the compensating decrease. |
| | |
| --- | --- |
| | #3 Pleasing Reversibility in Lace is the answer to a completely wearable stole. The design features reversible double diamond motifs silhouetted by eyelets. A knit-as-you-go textured lace border frames the entire piece. Throw it on and go! The lace stitch patterns are designed to be pleasing on both sides, making this stole look great no matter which way you wear. |
| | |
| --- | --- |
| | #2 Elegantly Simple Triangle Shawl is knitted in one of the lovely lace stitch variations based on Shetland feather and fan. Start at the bottom point and make as small or as large as you want (of course, dependent on the amount of yarn you have, lol). Easily adjusts to all weights of yarn. |
| | |
| --- | --- |
| | #1 Say I'm Thinking of You with a hand knit scarf of lace hearts. Simple and quick to knit on just 29 stitches. The scarf begins with a wavy eyelet rib stitch symbolizing the twists and turns of life, and ends with a band of interlocking hearts to express the bonds of loving friendship and support. |
---
BOBBOL KAL's at KnitHeartStrings
Sharon G. wrote: "I am progressing with my Market Bag and I really like it and plan to make more. Thanks for the everything."

For July, we've been knitting a lace-like non-lace stitch to make a Market Bag. Curious? Check out the article here.

There's just a couple more days left to get the pattern at special member-only discounts, too. Check out the Market Bag KAL page for more info.

p.s. Next Up KnitHeartStrings BOBBOL KAL for August: Did you know that corn is used to make yarn? Next up KAL for August
Exploring new things has always been fun for me. How about you?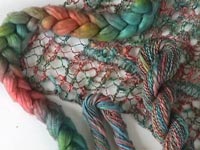 This method combines cotton roving, braiding, dyeing, spinning and knitting. It might not be for everyone. But who knows, it might be something you want to try someday to expand your creative horizons. More about the cotton study project ...
Nifty Nuggets
Win yarn from Mountain Colors in the Circular Perspectives KAL at Ravelry!
I'm leading a KAL on Ravelry for Mountain Colors Yarn company using their new gradient Perspectives Kits in Crazyfoot yarn. Starts July 25th but we are already chatting and sharing. Read more ...
---
Enter the Giveaway for July Prizes at KnitHeartStrings
Yes, that is plural — there will be 2 prizes for July! Which do you want? More details ...

---
Remember YOU are special
A long-time HeartStrings knitting friend, Joy Cyr, has launched her luscious hand made body care products onto the internet. I'm so happy for her, and I am really enjoying her products. Pamper yourself with tasty lip balm and more ...