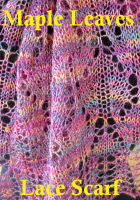 Hi knitting friends! What's on your needles for the summer?

I'm really running behind this month! So sorry this newsletter is getting out late. Hope you didn't think I had forgotten about you.

The first of summer holidays are just a few days away. For example Canada Day (July 1) and Independence Day (July 4). So it only seemed fitting to show off designs for Maple Leaves (to left) and Mini Lace and Beaded Flag (in the banner above).

Another celebration is going on here at HeartStrings because it is the 20th Anniversary of the first two officially released patterns for my business. More info below along with an offer.

I hope you enjoy the newsletter. And I hope I am not running as late next month, lol. Happy knitting,

Tanya S. wrote: "I love your patterns! I love beads and lace and I love to combine them whenever possible. Thanks so much for you continued work. If I had time, I think I would knit all your patterns in several different colors!"
---
Down by the Sea
Gentle Breezes from design concept to completion

I love to "paint" with color and texture in many media. Probably my favorite media and technique, not too surprisingly, are fine yarns, beads and lace knitting. The rectangular shape of a stole provides the simplest of 'canvases' in which to play with design.

It starts with "tell a story" ...

You can read the full story at my blog. I hope you are inspired to "paint" your own stories as a jumping off point in creative knitting.

---
20-Year Celebration
Celebrate along with me for 20 years of HeartStrings patterns!

These are the first two patterns that I officially published under the HeartStrings business name. The pattern line has developed significantly since that time, but there is still a place in my heart for these 2 designs that launched the business all those 20 years ago.
Waves and Flowers is a classic fit short-sleeved lace sweater, knit in a pleasing composition of lace waves, flower motifs and staggered eyelets.

This lightweight sweater is styled to be worn alone with skirt or slacks, or under a suit coat or blazer.

The wave lace pattern forms a natural scalloped edging and is featured on the lower body and sleeve borders.

Purchase on Ravelry at 20% off thru 6/30-2014 (no coupon needed).
Pinstripe Mélange is a casual, loose-fitting long-sleeved sweater in coordinating yarns. It's fun to knit with its variety of texture stitch pinstripes.

Circular one-piece contruction with no seams to sew makes this sweater easy to knit and easy to finish.

Purchase on Ravelry at 20% off thru 6/30-2014 (no coupon needed).
In appreciation of you being a part of HeartStrings and looking forward to many more years together.
---
June KAL: Charity Knitting Made Simply Elegant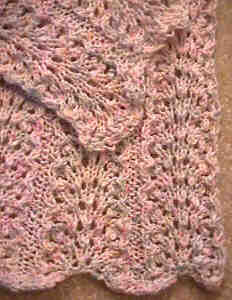 Patty T. wrote: "This is my favorite charity baby blanket pattern! So simple to memorize the pattern and such a beautiful result! Thanks for sharing this pattern. I might just have to start another blanket this weekend!"

Did you hear? June's featured learn-and-knit-along in the Beyond BOBBOL 2014 Series has been focusing on charity knitting. For this KAL only, everyone gets both the practice bookmark pattern and the baby blanket pattern for free. There's still time to get these. More info here.

I'm running behind this month. Maybe you are, too? If so, you'll be happy to hear that the discount offers on the extra bonus Elegantly Simple Triangle Shawl pattern have been extended through June 30th! Get 50% – 100% off as a KnitHeartStrings member. Check out the KAL page for more information.

p.s. Next Up KnitHeartStrings BOBBOL KAL for July: A market bag in fake lace.
The humble tapestry needle is a multi-purpose tool in the knitting bag of tricks.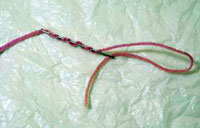 For example, a tapestry needle is used to join yarn ends with interlocking loops. Sometimes referred to as the Russian Join, this knotless method is especially useful for joining yarn in two colors so that the colors do not overlap.

Step-by-step photo tutorial ...
Nifty Nuggets
Circular Perspectives KAL I'll be leading a KAL on Ravelry for Mountain Colors Yarn company using their new gradient Perspectives Kits in Crazyfoot yarn. The KAL will start in late July. More info to follow.
Enter the June Prize Drawing
In keeping with the summer heat-up, June's prize is a specially-prepared Red Hots Anklets Kit. Besides yarn and pattern to knit these fun socks, I've sweetened the deal with Red Hots candy and a lovely fluted candy bowl.

Since June is charity knitting focus month at KnitHeartStrings, you can also earn additional giveaway entries for each knitted item you donate to your choice of worthwhile cause. More details ...