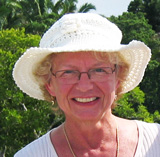 Hi knitting friends,

How are your summer plans shaping up? Since the heat and humidity have already descended here in New Orleans, I will be on my way in a few days to higher, cooler elevations for the next several months. Of course, some knitting is going with me, as well as my computer so I can keep in touch with you.

Need kits or supplies you are planning for summer stitching? A reminder to get your order in now. My summer/fall away-from-the-studio schedule means I will not be shipping orders for physical items from the KnitHeartStrings Online Store again until the late Fall. Please order no later than May 16, 2014. Thanks for your understanding. (this does not apply to digital pdf pattern downloads -- you will be able to continue to order and download those as usual)

The photo in the banner is from the new Pleasing Reversibility in Lace pattern I mentioned would be coming out in last month's newsletter. The sample model is knitted in Crystal Palace Mini Mochi - color "Napa Valley". I've designed this wrap to look great on both sides so you can just throw it on and go. More info here including free sample pdf download of the pattern's cover page.

Read on for more tidbits in the newsletter. If I can help in any way, give me a shout-out. Happy knitting,

Nancy P. wrote: "I so much look forward to your postings, patterns and instruction with tips."
---
Triangle Shawl Guidelines
Judith H asked: "I'm looking for a triangular shawl pattern, using knitting worsted weight yarn. Do you have any?"

Make the size triangle shawl you want in any of 4 yarn weights. Triangle shawl designs in the HeartStrings pattern line are easy to adapt to other yarn weight types than those specified in the original pattern.

Read the full article to help you estimate Yardage needed and what Needle Size to use. Also includes tips on Checking Your Work and Blocking in Progress.

---
Classics Revisited
Prefer charts? Prefer line-by-line written instructions? Good news! I've recently upgraded 3 more of my older HeartStrings classic patterns to include both.
| | |
| --- | --- |
| Reversible Lace Cables | Mock eyelet cables and herringbone lace designed into a beautifully draping reversible lace scarf. |
| | |
| --- | --- |
| Oak Leaf | Here is a beautiful small lace piece in the shape of a leaf of the majestic Oak tree. |
| | |
| --- | --- |
| Lorna's Light | Fine and fancy lace beadwork to be knit into a necklace purse and either of two styles of bookmarks. See below for KAL special offers. |
---
Precious Treasures :: May's Beyond BOBBOL KAL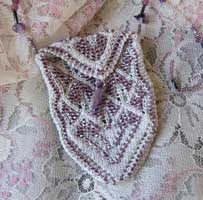 Barb wrote: "This is what I really love about the Knit Heartstrings KALs - they challenge and teach me so much in small, very manageable bits."

Beyond BOBBOL 2014 at KnitHeartStrings carries on the tradition of monthly learn-and-knit-a-longs for small projects while learning and practicing in bit-sized steps to bring the art of knitting to new heights.

May's KAL in the Beyond BOBBOL 2014 Series transforms fine, fancy lace knitting beadwork into beautiful jewelry. Join us to knit Lorna's Light, a tiny necklace purse. Not interested in jewelry? There is also a choice of 2 bookmark versions included in the pattern.

KnitHeartStrings members get 50% to 100% off the pattern price depending on your membership plan. Even if you decide not to get the pattern and knit along, you can hang around for the free tips, tutorials and techniques to inspire and advance your knitting skills. Check out the KAL page for more information.

Not a KnitHeartStrings member yet? Register now for an Introductory Free 30-Day Trial that includes a free download of your first monthly KAL pattern. You can then upgrade to the Basic Level or Premium plan to continue receiving a free monthly pattern download plus extra benefits. Or stay around beyond your trial on the Free Limited Content level to take advantage of free lessons and option to purchase featured KAL patterns at a significant member-only discount.

See Membership Plans for an overview comparison to help you pick the plan that best meets your budget, anywhere from free to VIP supporter.

Jan K wrote: "I LOVE your website, your KAL's, the helpful information -- EVERYTHING!! I am so happy I joined. Of course, I upgraded immediately to the Premium Level because I want it ALL. Thanks so much for your time and hard work and for keeping us with needles flying!"


Add tea bags to your list to "toys" for knitting! Yep, tea makes a soothing beverage while you knit. But beyond that, have you ever used it for dyeing?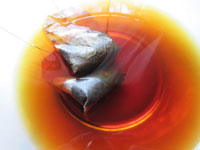 Tea dyeing is an easy way to give common white thread a lovely vintage look.

It's also great for over-dyeing and toning down outrageous colors, or bringing more harmony to disparate colors.
Step-by-step photo tutorial ...
Handy Links

What's New


Design Gallery


Newsletter Archive


Kits and Supplies

Nifty Nuggets
Charity Knitting Made Simply Elegant -- I'm naming June as charity month at KnitHeartStrings. EVERYONE gets the main project patterns for the June KAL free. Will you join us to knit and donate a hand made baby blanket to your charity of choice? Read about Next Up KAL ...

What percentage can you expect lace to increase in size after blocked? Get the answer here ...

May's prize includes a Precious Treasures Kit with premium upgrades for Necklace Chain and Gemstone Needles + signed hard-copy Lorna's Light pattern (over $35 total value). More about the May prize drawing ...