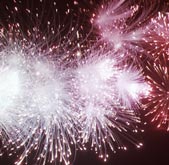 Hi knitting friend,

Fireworks over the Mississippi River and Happy New Year from Louisiana! I hope 2014 brings you lots of time to knit and enjoy life. I'm looking forward to sharing ideas and inspiration with you for a new year of great knitting.

When I am focusing on what's next, it's easy to lose sight of what's hot right now amongst the over 250 patterns in the HeartStrings line. So, in case you might have missed one of these before, check out the Top 14 to Begin 2014. I would love to hear what you think as that helps me focus new designs for the types of patterns you really like.

We've been kicking off Beyond BOBBOL 2014 at the KnitHeartStrings KAL site. If you haven't gotten over there yet, I hope you will join in to learn, share and take the art of knitting to new heights in 2014. There's more info below.

I hope you enjoy the other tidbits in the newsletter, too. Have a favorite topic or suggestion -- let me know!
Wishing you a bright new year of knitting fun,

p.s. By chance if you are getting this newsletter in duplicate, could you please let me know your preferred email address and the duplicate(s)? I will be happy to remove the duplicate email addresses from the subscription list so that you are not bothered.
---
Highlighted Favorites: Top 14 to Begin 2014
Taken from the 'demand rating' reported by Shopatron, this is the top 14 list as 2013 ended and 2014 begins. I hope you enjoy seeing the top favorites your fellow knitting friends are interested in.

Are your favorites included? Maybe it's something you already have, and then you know you are in good company. Or maybe it's something you've missed seeing in the past. You can click the pictures to find out more information and download a free cover sheet for any of the patterns.


| | |
| --- | --- |
| 1. Thinking of You | 2. Bead Skinny Skarf |
| | |
| --- | --- |
| 3. Swags of Lace Crescent | 4. Misty Soft Infinity Scarf/Cowl |
| | |
| --- | --- |
| 5. Filigree Lace | 6. Bitty Beady Christmas Tree |
| | |
| --- | --- |
| 7. Flared Lace Smoke Ring | 8. No Two Alike Snowflakes |
| | |
| --- | --- |
| 9. Lacyflakes | 10. Flames of Fall |
| | |
| --- | --- |
| 11. Soft Cables Moebius | 12. Playing in the Leaves |
| | |
| --- | --- |
| 13. Beaded Stress Ball | 14. Terzetto Lace Victorian Mitts |
Would love to hear what you think as that helps me focus new designs for the types of patterns you really like.

Please share your ideas at the HeartStringsFiberArts Facebook page or the Ravelry HeartStrings group. Or you can write me directly. Looking forward to hearing from you. What you say and share counts!
---
Beyond BOBBOL 2014 and Filet Lace Knitting KAL for January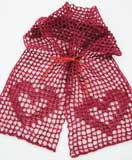 Jeanette wrote: "... I can't wait to try this! I have my Grandmother's Filet Crochet pattern book, but I don't crochet; I would love to work up some of the patterns in knit :) "

A darling little project each month of 2014

Beyond BOBBOL 2014 at KnitHeartStrings carries on the tradition of learn-and-knit-a-longs for small projects while learning and practicing in bit-sized steps.

For January: In time for Valentine's Day or celebrating friendships anytime

I Heart Filet Lace is January's KAL going on now. The technique I am teaching with this project for a short ascot scarf produces an easily knitted lace mesh that simulates the look of filet lace crochet or darned netting. This opens up a LOT of possibilities in knitting even count lace designs from other needle crafts.

To introduce Beyond BOBBOL 2014, the I Heart Lace Filet KAL pattern is free to active KnitHeartStrings members for download through January 25, 2014. Be sure you are logged in with your member username and password so that you see the "Download" link rather than the "Buy" link.

Come join us if you haven't already for KnitHeartStrings monthly KAL's and more. Register now for a Free 30-Day Trial. Basic Level and Premium Membership upgrade plans are available to continue receiving a free pattern monthly and to expand your benefits. Or stay around beyond your trial on the Free Limited Content level to take advantage of free lessons and option to purchase KAL patterns at a favorable member-only discount. See Membership Plans at the site for more information. Please help me spread the word and invite your friends to join at KnitHeartStrings.com.
Using common houselhold items for novel uses in your crafts --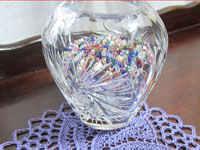 No matter how careful I am, it's likely some beads will get away. When found (hopefully before the vacuum goes clunk, clunk,...), I keep clear glass jars/vases handy in my workrooms to collect them into an ongoing, growing colorful display.
Handy Links

What's New


Design Gallery


Newsletter Archive


Kits and Supplies

Nifty Nuggets
Take Time to Save Knitting Time
A little bit of rehearsing will save time in the end by building confidence and reducing the chances of set-backs. Read how ...

5 Steps of Blocking in Progress for Natural Fibers
You don't need to wait until you complete your project to block and assure yourself that you are on the right track. See how ...

January Giveaway at KnitHeartStrings
Win a set of Cotton Waffle Weave Towels to adorn your kitchen, dress up the tea tray, or use as lap towels. 2 coordinating designs: "Hearts" and "Cats at Play". Read more ...

Conductive Thread
A technology-ready solution: Kreinik metallic thread you might already have on hand can be used to make plain gloves conductive. Curious? ...