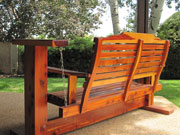 Hi knitting friend,

I love the outdoors in summer, whether traveling or relaxing at home on the patio. So it is important that my knitting projects are selected to be small and portable.

Do you have favorite summertime knitting projects? For ideas, I've featured a sampling of favorite "Small Projects with Big Impact" in this month's newsletter.

I hope you enjoy the rest of the newsletter, too. 'Til next time, please stay well, stay safe and enjoy your summer knitting.



From the Reader Mailbag: Rubynell wrote about the Fairies and Flowers Scarf in the May newsletter —

" Breathtaking! I love all your designs and am so delighted by the patterns in your newsletter. I always enjoy seeing your latest ideas and reading snippets of your life. Bless you. "
---
Knit Small Projects with Big Impact

A sampling of some favorites from the HeartStrings pattern collections. Did I include YOUR favorites?


V-Start Lace Neck Kerchief
(also featured above in the newsletter banner)

Bitty Beady Christmas Tree
| | |
| --- | --- |
| Thinking of You Too | Filigree Lace Ensembles |
| | |
| --- | --- |
| Symphony V Moebius | Rock Star Choker |
These patterns are available for purchase as both downloadable pdf format and full-color printed pattern format in archival quality clear sheet protector mailed to you promptly.

Click on the pictures to visit the HeartStrings website with more details.
---
Holiday Beaded Mini Sock KAL for July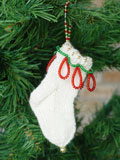 For July, our KAL project is fittingly in the theme of Christmas in July and features knitting with beads in colorful ways.

The project is Bells On My Toes, a festive holiday beaded miniature sock. The pattern is free for download in July by KnitHeartStrings members.

Come join us now if you have not already. Not a member yet? Register now. It's a great deal with free access to a pattern in the BOBBOL 2013 Series each month, along with bit-sized tutorials, tips and techniques posted throughout the year.

Simple beading techniques make this Holiday Beaded Mini Sock quick to knit, and the results look impressive. I bet you won't be able to make just one!

You can use this little sock for holiday tree trimming, as a sachet filled with herbal mixtures or potpourri, as a gift box decoration, etc.

This BOBBOL 2013 project introduces 3 more methods for knitting with beads. You'll also learn about stringing beads for a colored pattern sequence. Then the beads will be worked in a sampling of fun beaded knitting techniques.

From Moptop: " Thanks Jackie. Your pattern tutorials are very clear and I love making the items you select. "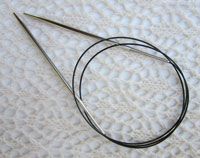 By using this tip, you can substitute circular methods (either two circulars, or even one circular) for any patterns written for double point needles.
Nifty Nuggets
History Trivia
Do you know why there never really was a 39-star US flag? Read about why it never became official ...

Stiffening Lace
Do you use starch, or is there some other magic formula? Read about tried and true stiffening that can't be beat ...

New KnitHeartStrings Feature
Under the Free Area menu, there's a new page called Previous KAL's of ALL FREE articles associated with knit-alongs in previous months. If you missed some of the KAL's, you can purchase the pattern while still taking advantage of all the extra bonus FREE tutorials, tips & techniques articles.