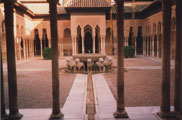 Hi knitting friends,

With the summer fast-approaching, I am dreaming of travels to escape the onset of hot and humid New Orleans. Even if we cannot travel to all the places we'd like to go, we can dream of them and let them be reflected in our knitting.

The banner above features HeartStrings' newest design Alhambra Arches Lace Stole. The beaded lace design is inspired by the stunning architecture of the famous Alhambra Castle in Spain. I've never seen the Castle in person, but I love looking through my man friend's photos of his trip there many years ago. In fact, it was at his suggestion that I took some elements of the architecture and designed them into this lace stole. Hope you enjoy.

From the Reader Mailbag: About the Ethereal Fichu featured in the "Ways to Wear Triangle Shawls" of last November's newsletter, Barbara Sanford of Blackberry Forest wrote:

"I'm also writing to thank you and applaud you for the Ethereal Fichu. I'm now into the border along the top. Not only is it immensely beautiful -- it is clever beyond my imagination. And thank you for so clearly writing a way to turn those stitches that end up with a purl through the back loop. I stand at your feet! What a pretty border, and how very fun to work it … I'm eager to have a look at your lovely new designs, but first wanted to praise you mightily for a marvelous pattern with all the detail a knitter longs for. "

I love to hear that my pattern details help make knitting an enjoyable process. It is certainly something I strive for. Thank you kind readers for your support and encouragement. It motivates me to do even more to help you discover, learn, and make it your own.

Enjoy the newsletter!



---
Stash Busting Favorites for Mixing Yarns

These Heartstrings patterns are great for mixing yarns into your own one-of-a-kind creation. Shop your stash for any and all kinds of yarn: plain to fancy, contrasting or coordinating colors, even thinner yarns can be combined to make the equivalent of a thicker yarn, too. Have fun!.

Click on the pictures to visit HeartStrings website with more details.


Easy Asymmetry Wrap


Create a one-of-a kind designer look with your choice of three yarns in this easy-to-knit, easy-to-wear knitted wrap. Easy Asymmetry Wrap is an ideal pattern for creating your own one-of-a-kind shawl with a mix of fancy and/or classic yarns. The shaping is done with a one-row super-easy lace pattern that knits naturally on the diagonal.


3-to-2 Any Gauge Sweater


Use any yarn for this on-the-bias sweater. The 3-to-2 bias shaping in the body of the sweater gives you flattering design and drape. This is a great pattern for variegated yarns or multiple yarns of similar weight knit in easy stripes.

A simple 3-step worksheet guides you in determining how much yarn you need and suggested needle sizes for your desired sweater measurements in fingering through bulky weight yarns. Includes option for sleeveless, short or long sleeve styles.


Troika Wrap-Around Faroese Shawl


Here is a wonderfully simple and fun shawl that is shaped like a giant butterfly. Knitted in a 3-ball garter stitch technique from the top-down, this is a great pattern for using a mix of novelty and stash yarns. Shaping is done with simple yarn overs, and creates the traditional Faroese-style shawl with center back panel, side front panels, and shaped shoulders. The elongated front panels allow you to wear this shawl in lots of ways, including tied around the back.


Troika Scarf


A super easy scarf that is knit sideways along the length in garter stitch. This scarf design features look-alike cast-on and bound-off edges. The scarf is named "troika" for the method of using three different yarns in alternating sequence. It's great for odd balls or using small amounts of high-end yarns together with some more economical yarns, or even stash yarns you already have on hand. Free pattern valued at $5.


---
Pinwheel Flower KAL for May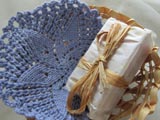 The May knit-along at KnitHeartStrings is Pinwheel Flower. Bring a little bit of knitting art into your kitchen, bath, or dining entertainment. Make this practical, small piece of flower-inspired "art" that you can use as a facecloth, tabletop coaster/doily, or stylish kitchen dishcloth.

Come join us now if you have not already. The pattern is free to KnitHeartStrings members during May. Not a member yet? Register now. It's a great deal with free access to a pattern in the BOBBOL 2013 Series each month, along with bit-sized tutorials, tips and techniques posted throughout the month.

From Chris: "What a lovely cloth. I see there are at least two techniques new to me in the pattern. I'm looking forward to knitting and learning. "


---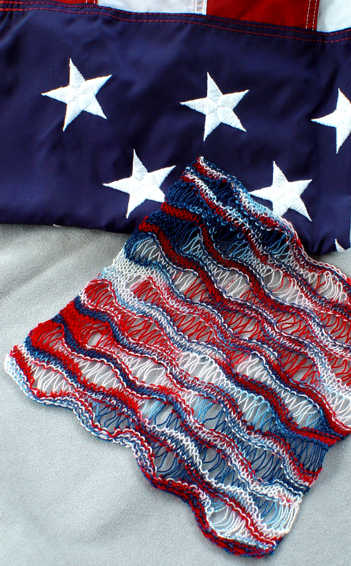 Knit a simple scarf for Memorial Day to remember and honor friends, family, and unsung heroes who have, and continue to serve to keep our country free. Use this free pattern with your choice of variegated red, white and blue yarn.
Nifty Nuggets
Easy Knitted Circular Start
How to avoid the struggle of beginning a circular lace center on double point needles. You can practice with this month's Pinwheel Flower KAL, too! Read on ...

Pin It to Win
Win your favorite pattern from the Spring 2013 Collection. HeartStrings FiberArts is now on Pinterest! Follow and pin your favorite pattern(s) from the Spring 2013 Collection board. Each pin earns a chance to win the pattern you pinned. There will be 9 winners in all -- one for each pattern in the collection! Winners will be drawn randomly May 31, 2013 Midnight CST and announced in next month's newsletter.

For the Man
Don't forget Father's Day June 16th. There's still time to knit something for Dad. For ideas and inspiration, see the pattern collection For the Man ...