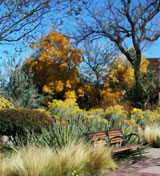 Hi knitting friends,

In last month's newsletter, I wrote about FALL, the time when the knitting season begins to heat up. A dear reader from "down under" kindly commented "Actually it is Spring here". Well, of course. But, I hope that everyone all over will still help me celebrate Fall here at HeartStrings. It is a favorite season with it's start of coolness in the air, and the glorious colors of nature. To left are colors from my visit to Santa Fe last week.

If you've gotten the hint that I like Maple Leaves, you are correct! Last month's newsletter banner featured #A30 Maple Leaves Scarf. I hope you won't get tired of seeing more, because I especially love the knitted Maple Leaf Medallions in this month's banner above. (click on the banner if you'd like to get more info about the #H02 Playing the Leaves pattern)

Ready to get onto the newsletter? Enjoy!
Knitterly hugs,

---
Small Projects that Make BIG Impressions
With the holidays approaching, thoughts turn to gifts for family and friends. Why not make them something they will always remember?

Here are a few favorites to get your ideas rolling:


Filigree Lace Neck and Wrist Warmers (top left) The lacy look in layering makes a cozy gift. Pattern #A135

Norwegian Braid Hat (top right) Distinctively understated. This is a favorite in the For the Man category. Pattern #KH04 (Kits also available)

Dolly Faroese Shawl (middle left) What little girl (or big girl!) wouldn't love one of these for her dolly or teddy? Pattern #H34

Beaded Stress Ball (middle right) These are just plain fun to knit and give. Besides being practical for stress relief, they make a sparkly home accent piece or ornament. Pattern #H18

Mini-Sweater (bottom) Make a bit of knitting art for the person who has everything. It's a great use for small amounts of leftover yarn or handspun samples. Free Pattern

Need more ideas? Feel free to look around HeartStrings FiberArts website for inspiration. Design Gallery

---
Bits of Lace Oak Leaf for October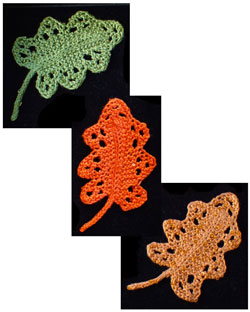 Believe it or not, Bits of Lace Oak Leaf is a bit of lace edging. The design features an interesting lace edging construction built around an I-cord stem.

In celebration of Fall, this special edition pattern for a little oak leaf is offered for October exclusively to Bits of Lace members over at the KnitHeartStrings.com site.

Bits of Lace Oak Leaf will be available in the Free Membership Pattern area only through October 31, 2012. Get it now ... (Be sure that you are logged in to see the free Download button rather than the Buy Now button.)

Not a KnitHeartStrings.com member yet? Whether you are new to lace, or just want to have fun with some interesting skill-building projects, we welcome you for Bits of Lace 2012 at KnitHeartStrings.com. And joining is still free! Besides a free pattern each month for the learn-and-knit-along, there are bit-sized tutorials, tips & techniques posted throughout the month.

Patty T writes: " What a beautiful autumnal project! Makes me remember my family home in New England -- crisp cool days filled with blue skies and colorful leaves on the trees! "


---
Nifty Nuggets
What are you doing for "I Love Yarn Day"?
Today, October 12th is the day the Craft Yarn Council has designated to affirm our passion for yarn (like we need an excuse, lol). Read on ...

Releasing the Temporary Crochet Chain of a Provisional Cast On
Enjoy peace of mind without dropped stitches, tears or frustrations. Now at KnitHeartStrings.com by registering for free at the website. Read on ...

Italian Bunny, in support of Fondazione San Vincenzo
I am happy to announce the Italian translation of Knitted Bunny from a Square, Coniglietto da un Quadrato di Maglia, thanks to Paolo Dalle Piane. Read on ...