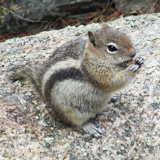 Hi knitting friends,

It's FALL … the time when the knitting season begins to heat up! In salute to that, this month's newsletter banner features Maple Leaves Scarf knitted in Mountain Colors Winter Lace., color Prairie. I hope you enjoy seeing it and that it inspires you to get your knitting needles ready for some Fall knitting if you have not already.

By the way, this little guy pictured to the above left kept me company for a long time along a trail to Lake Lawn in Rocky Mountain National Park. It was a beautiful day hiking and a nice break from helping John move into his new patio home in Colorado. I really like the area, so I am planning to visit often!

Which unfortunately means that I will be spending less time at the Louisiana studio. Because of that, shipment of kits you order could sometimes take up to 4 weeks (you will always be notified right away if this is the case). But I will definitely get them out to you as soon as possible. You can always check my HeartStringsFiberArts.com website for the current schedule.

Enjoy the newsletter!
Knitterly hugs,



Anne S writes: " The newsletters always seem to come when I am stuck for something new to try. Thanks for the wonderful information and patterns. "


---
Favorite Fall Picks


Whether in flaming fall colors, subtle colors to herald the cooler weather of fall, or for fun fall holidays, I hope these inspire your fall knitting.

FLAMES OF FALL STOLE (top left) A knitter's canvas of color and texture play homage to Flames and Fall. Beads and flames of lace endue a soft glow of warmth in this pleasingly reversible and wearable stole. Pattern #A146

MAPLE LEAVES SCARF (top right) Easy to knit on just a few stitches and enjoyable to wear in a variety of ways. This delicate lace scarf is designed with a knitted lace pattern stitch where the silhouette of yarn over eyelets look like maple leaves. Pattern #A30

SPIDER-WEB SOCKIES (center) Perfect for Halloween or Arachne lovers anytime, whether spinning or weaving. This is a pattern for themed companion socks, one with a spider and the other with a web, knitted in lace and beaded stitches. Pattern #A68

More ideas for HeartStrings patterns with Holiday and Seasonal Themes.

---
Bits of Lace for September
The September project for Bits of Lace showcases a dainty saw-toothed lace edging that you can use to decorate a plain fabric-center doily. This Lace-edged Doily will look amazing anywhere you want a little something to protect furniture while displaying your lace knitting at the same time.

Lace-edged Doily will be available in the Free Membership Pattern area through September 30, 2012. Get it now ...

Whether you are new to lace, or just want to have fun with some interesting skill-building projects, we welcome you for Bits of Lace 2012 at KnitHeartStrings.com. And joining is still free! Besides a free pattern each month for the learn-and-knit-along, there are bit-sized tutorials, tips & techniques posted throughout the month.

Susan writes: " I like this site, helpful directions, explained well, nice job! "


---
Nifty Nuggets
An excuse to work with hand-spun yarn
Do you hand-spin yarn? Enjoy the craft of spinning by hand in your knitting, too. I must admit I need to heed my own advice more often to reap the satisfaction it brings. Read on ...

5 Tips for Selecting a Perfect Waste Thread
Waste thread - (in knitting) a temporary thread that will be removed later. Instead of just grabbing any spare piece of waste thread for a provisional cast on, use these tips to help assure success of an invisible seam. Now at KnitHeartStrings.com by registering for free at the website. Read on ...