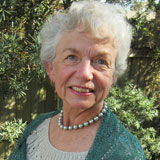 Hi knitting friends,

Happy Mother's Day! I hope you have the most lovely special day. In fact, I want to declare that a single day is not enough. What about the whole week? Pamper yourself (and don't be too shy to let others pamper you) -- we deserve it!

I love Spring for all its awakening of the Earth with the freshness of green. So I hope you enjoy this month's photo banner above that features Beanstalk Lace Top.

From the Reader Mailbag: About the Country Girl Socks featured in last month's newsletter banner, Sue wrote "Oh gosh, loved the newsletter and how ironic I was wearing my green Country Girl socks when I sat down to read it, thanks again for some great patterns that I used over and over."

May also reminds me of that saying "April showers bring May flowers". How many HeartStrings designs can you name that have "flower" in their pattern name?

Read on now for news and specials you won't want to miss.
Happy knitting,

---
April Showers Bring May Flowers
Which HeartStrings designs have "flower in their pattern name? I had to look this up myself just to make sure, because I wanted to turn this into a special opportunity for you.

Hint: There is a pattern for a summer sweater, a lightweight shawl pattern, a lace scarf pattern, and lace-cuffed anklet socks.

Here's your chance to peruse the Ravelry Store for HeartStrings Jackie E-S patterns and find out. And while you are there, you can use coupon code FLOWERS to receive 10% off on any pattern with "flower" in the name. Offer expires at the end of May 2012.

---
Bit-sized Intro to Lace Charts

This month's project for the Lace Cable Bookmark at Bits of Lace 2012 is an intro to the basics of knitting lace with charts.

Even if you have not used charts in the past, there are written instructions in the pattern as well as additional bit-size tutorials, tips & techiniques on the site to help ease your way into feeling comfortable using charts (if you want to).

Whether you are new to lace, or just want to have fun with some simple and interesting skill-building projects, Bits of Lace 2012 at KnitHeartStrings.com is the place for you. If you'd like to see what's going on, join at no cost to you.

Lace Cable Bookmark will be available in the Free Membership Pattern area only through May 25, 2012. Get it now ...

---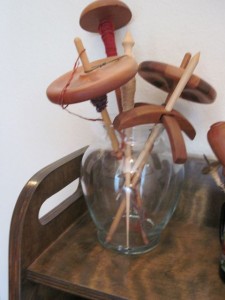 Are you a spinner looking for a way to justify your fascination with collecting hand spindles?Deco-organizing ...
News Nuggets
Win a Stole Kit
Are you up for a little game and chance to win yarn and pattern for the new Gentle Breezes Stole I recently designed as a first-run exclusive for Sandrasingh.com? There's a Treasure Hunt going on at the Sandrasingh.com Blog now. Hurry – Contest ends May 16, 2012. Get more details ...

Birthday Club on Ravelry
Post your projects, "vote" on what you like, and everyone gets things all during the year. Check out the details and forum thread where you can participate at the Jackie E-S / HeartStrings Fan Group ...

HeartStrings on Craftsy
If you are a member of Craftsy, did you know that Craftsy now offers several downloadable HeartStrings patterns? See HeartStrings patterns on Craftsy here ...