Bits of Lace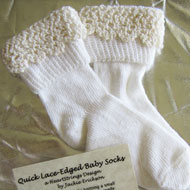 Would you like to join in on our Bits of Lace series for 2012? I am going to treat you with a little project each month that involves just a few stitches. Beginners to advanced are all welcome.
If you have been avoiding learning to knit lace because you think it is too hard, I am going to tempt you with darling little projects that will help you get over the hump.
Even if you already know how to knit lace, I think you will find the projects fun (and who knows, you might even pick up a tip or trick along the way).
Did you get a sneak peek of the first project here? On that webpage, there also are instructions for how to change your newsletter subscription options forthe Bits of Lace series. Now be sure to sign up before you forget.
Thanks so much, and I am looking forward to sending you the first project in a few days.
Colleen writes ... "Looking forward to the project! I already have my materials!"